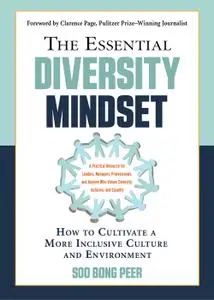 The Essential Diversity Mindset: How to Cultivate a More Inclusive Culture and Environment by Soo Bong Peer
English | March 1st, 2021 | ISBN: 1632651890 | 256 pages | True EPUB | 1.03 MB
A fresh and practical approach to diversity—as a mindset, not as a formula.
"A rich combination of personal stories, research data, and excellent advice to help us think and talk beyond the limits of labels to see, respect, and appreciate the individuals within." — from the foreword by Clarence Page
In our divided climate with heightened concerns and emotions over inclusion, racism, and activism, The Essential Diversity Handbook offers a transformative approach to diversity—as a mindset, not as a formula. Thoughts, feelings, and behaviors (not enforcements, compliances, or statistics) drive diversity outcomes.
The Essential Diversity Handbook provides answers to businesses, organizations, and people searching for alternate perspectives and strategies to advance diversity and inclusion. It is for those who feel different or alienated, and want to foster their sense of self-empowerment and connect with others. And it's for those who want to deepen their capacity to build greater empathy, open-mindedness, and connection.
The Essential Diversity Handbook will inspire readers to pause and reflect on where they are and explore how we all can make positive shifts to thrive in unity with differences.
Enjoy
My Blog.
No any convert or low quality!