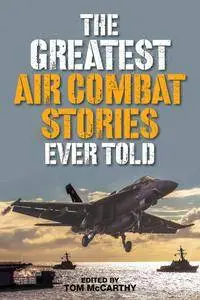 The Greatest Air Combat Stories Ever Told by Tom McCarthy
English | October 1st, 2017 | ASIN: B075PK6MLT, ISBN: 149302700X | 170 Pages | EPUB | 2.62 MB
Heroism and valor in the sky!
• A new title in the relaunch of our successful Greatest Stories Ever Told franchise.
• Air combat has captured the imaginations of people since the fighter plane was first introduced during WWI.
• Stories of aces such as Eddy Rickenbacker and Captain Baron Manfred Von Richthofen have become staples of books and movies as well as the stuff of legend.
In The Greatest Air Combat Stories Ever Told, the editor has pulled together some of the finest tales of heroism and valor in the skies over the battlefield! It is an unforgettable collection, and includes stories by Baron Manfred Von Richthofen, Len Deighton, Jay A. Stout, and many others. It includes tales of legendary aces from the Great War up through the present day, and is the newest title in the series that includes:
• The Greatest Special Ops Stories Ever Told
• The Greatest Sniper Stories Ever Told
• The Greatest Air Aces Stories Ever Told
• The Greatest Coast Guard Rescue Stories Ever Told