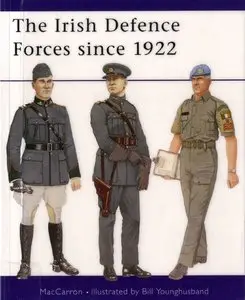 The Irish Defence Forces Since 1922 (Men-at-arms 417) By Donal MacCarron
Publisher: Os Publishing 2004 | 48 Pages | ISBN: 1841767425 | PDF | 20 MB
The Irish Defence Forces were born of the bloody aftermath of the 1921 treaty establishing the Irish Free State, and the Irish National Army's first engagement was to fight other Irishmen, some of them former Volunteer colleagues, in a bitter civil war. After this, the Forces were reorganised and developed into a regular, peacetime army. The Forces have been mobilised for the defence of Ireland during World War II, for internal security; and since 1955 Irish soldiers have served on UN operations across the world. In this book, Donal MacCarron, who served in the Irish Army during World War II, surveys the uniform and history of the Irish Army, Air Corps and Naval Service. Donal MacCarron is an established military and aviation historian. Educated at CBS, he studied civil engineering and architecture at University College, Dublin. He has had a number of books and articles published, including 'Wings over Ireland: the Story of the Irish Air Corps', and 'Step Together, the story of Ireland's Emergency Army'. Bill Younghusband was born in 1936. He has been interested in all things military since childhood, an interest compounded through the reading of authors such as G. A. Henty. Bill is a respected military illustrator of many years' experience. He is married, and lives in Ireland.
NO PASSWORD


!!!No Mirrors below, please! Follow Rules!