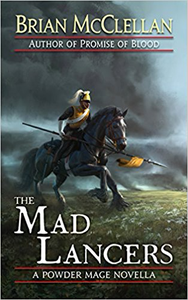 The Mad Lancers - Brian McClellan
English | 2017 | 122 Pages | ISBN: 0996232354 | EPUB | 267.62 KB
Young war hero Ben Styke commands a colonial garrison in a sleepy Fatrastan town. It's a well-deserved quiet posting and Styke intends to keep the peace despite rumblings of discontent across the continent.
But peace is difficult to maintain on the frontier. Taxes imposed by the far away Kez government, and their heavy-handed methods of enforcing them, have the people on edge. When the governor's cruel brother stops for the night in Fernhollow, Styke is forced to protect the people of his town in a brutal escalation that threatens to destroy everything—and everyone—he has fought for.
Occurs twelve years before the events in Sins of Empire.
Download Links