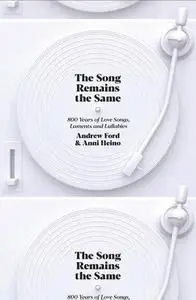 The Song Remains the Same: 800 Years of Love Songs, Laments and Lullabies by Andrew Ford, Anni Heino
English | December 2nd, 2019 | ISBN: 1760640115 | 293 pages | EPUB | 1.03 MB
An illuminating history of the song for every kind of music lover
Often today, the word 'song' is used to describe all music. A free-jazz improvisation, a Hindustani raga, a movement from a Beethoven symphony: apparently, they're all songs.
But they're not. From Sia to Springsteen, Archie Roach to Amy Winehouse, a song is a specific musical form. It's not so much that they all have verses and choruses – though most of them do – but that they are all relatively short and self-contained; they have beginnings, middles and ends; they often have a single point of view, message or story; and, crucially, they unite words and music. Thus, a Schubert song has more in common with a track by Joni Mitchell or Rihanna than with one of Schubert's own symphonies.
The Song Remains the Same traces these connections through seventy-five songs from different cultures and times: love songs, anthems, protest songs, lullabies, folk songs, jazz standards, lieder and pop hits; 'When You Wish Upon a Star' to 'We Will Rock You', 'Jerusalem' to 'Jolene'. Unpicking their inner workings makes familiar songs strange again, explaining and restoring the wonder, joy (or possibly loathing) the reader experienced on first hearing.
'As much about singing, musicianship and recording as it is about songwriting, this eclectic ride through a unique choice of songs (everyone will argue for alternatives) is cleverly curated and littered with intriguing details about the creators and their times, filled with loving cross-references to other songs and deft musical analysis. I defy anyone not to leap online to listen to the unfamiliar, or re-listen to old favourites in light of new detail. One of the best games in this book is figuring out why one song follows the other: there's always an intelligent, often very funny, link.' —Robyn Archer
Enjoy
My Blog
. No any convert or low quality!