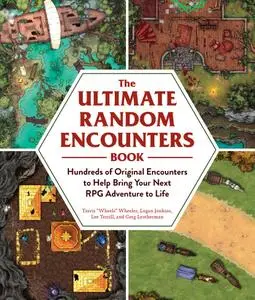 The Ultimate Random Encounters Book: Hundreds of Original Encounters to Help Bring Your Next RPG Adventure to Life by Travis "Wheels" Wheeler, Logan Jenkins, Lee Terrill, Greg Leatherman
English | October 5th, 2021 | ISBN: 1507216378 | 176 pages | True EPUB | 128.92 MB
Take your gaming campaign to the next level with this inspiring, easy-to-use collection of random encounters perfect for any fantasy RPG.
Spark your imagination fast with this collection of fun, engaging, and inspiring random encounter prompts. These expertly written options are organized into popular themes and locations so you can find what you need fast, whether you choose from the list or use the dice to choose randomly. With fantasy hooks to fit every game from Pathfinder to GURPS to D&D, there are options for all of your campaigns.
Whether you're playing from a game book or weaving your own home-brewed adventure, there's always a need for short random encounters in between set pieces. Now you can meet all your gaming needs and engage more in your story to bring your game to life.
Enjoy
My Blog.
No any convert or low quality!