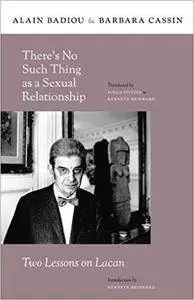 There's No Such Thing as a Sexual Relationship: Two Lessons on Lacan by Alain Badiou, Barbara Cassin, Kenneth Reinhard, Susan Spitzer
English | 2017 | ISBN: 0231157940 | 136 Pages | PDF | 1.2 MB
Published in 1973, "L'Etourdit" was one of the French philosopher Jacques Lacan's most important works. The book posed questions that traversed the entire body of Lacan's psychoanalytical explorations, including his famous idea that "there is no such thing as a sexual relationship," which seeks to undermine our certainties about intimacy and reality.
In There's No Such Thing as a Sexual Relationship, Alain Badiou and Barbara Cassin take possession of Lacan's short text, thinking "with" Lacan about his propositions and what kinds of questions they raise in relation to knowledge. Cassin considers the relationship of the real to language through a Sophist lens, while the Platonist Badiou unpacks philosophical claims about truth. Each of their contributions echoes back to one another, offering new ways of thinking about Lacan, his seminal ideas, and his role in advancing philosophical thought.