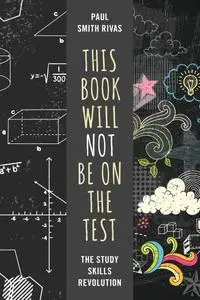 This Book Will Not Be on the Test: The Study Skills Revolution by Paul Smith Rivas
English | February 28th, 2019 | ISBN: 1475845596 | 156 pages | EPUB | 2.16 MB
The problem with higher education today is that colleges are not transparent about their students' academic lives, so families don't know what their students should experience or accomplish in college. This book is part on-the-ground college insider tell-all memoir and part study skills Bible. It's brutally honest, relatable, and entirely free of jargon, and alerts parents to a huge problem in American education today – that high school doesn't prepare students to thrive in college.
Offering explicit study skills solutions for the academic, financial, and mental health problems caused by this unfortunate reality, this book helps students, parents, teachers, and administrators have more rewarding experiences in schools, to the great benefit of themselves and their school communities. It shows students how to learn more and earn better grades in less time so that they can make the most of their college investment, parents what they can expect from their kids' college experiences, and administrators what the schoolwork is really like at the level below or above their current professional context. Every parent will recognize their college-bound children in several of the chapters.