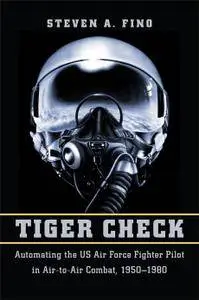 Tiger Check: Automating the US Air Force Fighter Pilot in Air-to-Air Combat, 1950–1980 by Steven A. Fino
English | October 17th, 2017 | ISBN: 1421423278, 9781421423272 | 449 Pages | True PDF | 26.74 MB
Spurred by their commanders during the Korean War to be "tigers," aggressive and tenacious American fighter pilots charged headlong into packs of fireball-spewing enemy MiGs, relying on their keen eyesight, piloting finesse, and steady trigger fingers to achieve victory.
But by the 1980s, American fighter pilots vanquished their foes by focusing on a four-inch-square cockpit display, manipulating electromagnetic waves, and launching rocket-propelled guided missiles from miles away. In this new era of automated, long-range air combat, can fighter pilots still be considered tigers?
Aimed at scholars of technology and airpower aficionados alike, Steven A. Fino's Tiger Check offers a detailed study of air-to-air combat focusing on three of the US Air Force's most famed aircraft: the F-86E Sabre, the F-4C Phantom II, and the F-15A Eagle. Fino argues that increasing fire control automation altered what fighter pilots actually did during air-to-air combat. Drawing on an array of sources, as well as his own decade of experience as an F-15C fighter pilot, Fino unpacks not just the technological black box of fighter fire control equipment, but also fighter pilots' attitudes toward their profession and their evolving aircraft. He describes how pilots grappled with the new technologies, acutely aware that the very systems that promised to simplify their jobs while increasing their lethality in the air also threatened to rob them of the quintessential—albeit mythic—fighter pilot experience. Finally, Fino explains that these new systems often required new, unique skills that took time for the pilots to identify and then develop.
Eschewing the typical "great machine" or "great pilot" perspectives that dominate aviation historiography, Tiger Check provides a richer perspective on humans and machines working and evolving together in the air. The book illuminates the complex interactions between human and machine that accompany advancing automation in the workplace.