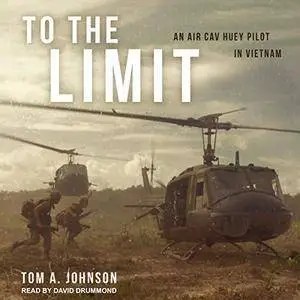 To the Limit: An Air Cav Huey Pilot in Vietnam [Audiobook] by Tom A. Johnson
English | August 14th, 2018 | ASIN: B07G3CTZ8Z, ISBN: 1977363997 | MP3@64 kbps | 13 hrs 57 mins | 383.57 MB
Narrator: David Drummond
From June 1967 to June 1968, Tom Johnson accumulated an astonishing 1,600 flying hours piloting the UH-1 "Iroquois" - better known as the "Huey" - as part of the famous First Air Cavalry Division. His battalion was one of the most decorated units of the Vietnam War, and helped redefine modern warfare.
Johnson's riveting memoir takes us into key battles and rescue missions, including those for Hue and Khe Sanh. In harrowing detail, he tells of being shot down in the battle of A Shau Valley, of surviving enemy attacks during the Tet Offensive, and of a death-defying nighttime river rescue, in which only the bare feet of soldiers hanging off the Huey's skids kept the helicopter from plunging under water. From dangerous missions to narrow escapes, Johnson's memoir vividly captures the adrenaline rush and the horror of war, and takes you on a ride you'll never forget.