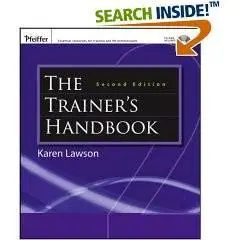 Karen Lawson, "The Trainer's Handbook (Pfeiffer Essential Resources for Training and HR Professionals)"
Pfeiffer; 2 edition (2006) | ISBN:0787977497 | 314 pages | PDF | 2,6 Mb
Review
"My recipe for a great lesson design is two parts content development and one part Trainer's Handbook. I always find something I can use in this great, and much used, reference book."
—Steve Sugar, coauthor, Games That Boost Performance
"From the initial needs assessment right on through to final evaluation, Karen Lawson's newest book has it all! You'll learn from a 'master' of our trade. Karen's pragmatic approach to this ever-changing field will clearly enhance and enliven your next training program."
—Edward E. Scannell, past National president, ASTD, and coauthor, Games Trainers Play series
Book Description
This thoroughly revised and updated second edition of The Trainer's Handbook presents a comprehensive, systematic approach to developing training skills and competencies. It reflects the current changes in the design, development, and delivery of training that will meet the needs of today's learner, distance learning, and performance consulting. The book offers a fresh focus on evaluation, includes practical how-to guidance, and a wealth of illustrative real-life examples.