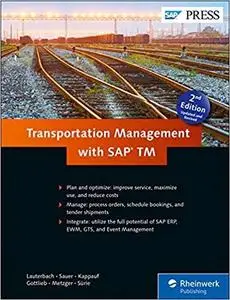 Transportation Management with SAP TM (2nd Edition) (SAP PRESS) by Jens Kappauf
English | November 30, 2015 | ISBN: 9781493212248 | 960 pages | PDF | 17 MB
This updated bestseller is your ticket to a comprehensive view of SAP TM business processes and use. Learn to plan and document transportation, select carriers, and create forwarding orders. Discover industry-tested best practices and optimize standard functionality to make SAP TM do everything you need it to do.
* Plan and optimize: improve service, maximize use, and reduce costs
* Manage: process orders, schedule bookings, and tender shipments
* Integrate: utilize the full potential of SAP ERP, EWM, GTS, and Event Management
End-to-End Management
Discover how SAP TM supports your transportation processes, from order management and carrier selection to charge settlement and analysis.
Implementation Best Practices
Learn how to best implement SAP TM and enhance its standard functionality using expert advice.
SAP TM 9.2 and 9.3
Find out how SAP TM has changed in functionality, with improvements in load planning, fleet management, analytics, and more.
* Transportation execution
* Master data
* Capacity management
* Change management
* Subcontracting
* Freight procurement
* Analytics
* SAP Business Suite integration
* Floorplan Manager BOPF integration