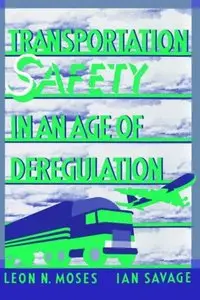 Transportation Safety in an Age of Deregulation
Oxford University Press | December 14, 1989 | ISBN-10: 019505797X | 368 pages | PDF | 17.88 MB
Recent legislation deregulating the airline and trucking industries has enhanced competition and reduced real transportation prices by putting pressure on firms to operate more efficiently. Yet, with the entry of many new small airlines and trucking firms facing the financial pressures of competition, many legislators fear that public safety will be reduced due to compromises in maintenance, equipment replacement, recruitment and training. This volume examines the theoretical and empirical issues involved in the debate on the relationship between safety and economic performance in the airline and trucking industries. Contributors discuss such factors as the role of government as provider of safety oversight personnel and airport and road space quality, and conclude that the government has not acted quickly enough to provide the additional safety resources to meet the changed needs of the two industries, though the evidence does not support the notion that deregulation has compromised safety.