Udemy - React JS vs Angular vs Vue JS - Quickstart & Comparison
Size: 1.60 GB | Duration: 8 hours | Video: AVC (.mp4) 1280x720 25fps | Audio: AAC 48KHz 2ch
Genre: eLearning | Language: English
Angular, React or Vue? What's Webpack and why does React use it? Get detailed answers to these questions!
Requirements:
• Basic JavaScript knowledge is a must
• Advanced JavaScript knowledge is a plus but not required
• No prior JavaScript framework or library experience is required
After learning the basics about JavaScript, the JavaScript world can be very intimidating. There are lots of different frameworks like Angular, React or Vue, libraries and other packages (like webpack).
You'll quickly see yourself ask these questions:
• What do all these packages, tools, libraries and frameworks do?
• What IS a library and what's the difference to a framework?
• Which framework should you learn? Angular, React.js or Vue.js?
• What about jQuery?
This course will help you with that!
You'll get an introduction into the three most important JavaScript frameworks (Angular, React.js and Vue.js) and you'll also get a detailed comparison! This will then allow you to pick other resources or courses to dive super-deep into your chosen framework whilst having a solid foundation already.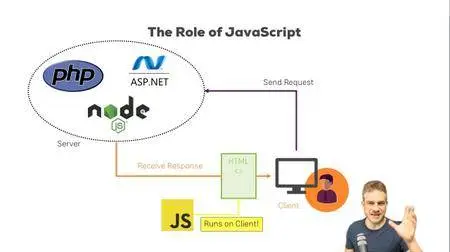 Throughout the course, we'll dive into the basics of these frameworks but we'll also have a look at why we use them to begin with. The role of jQuery and how these frameworks differ from jQuery will be clarified, too!
Here's a detailed overview over what you'll get!
• An introduction to today's JavaScript world and an immediate overview over the different roles of the individual pieces
• A practical example showing you why vanilla JavaScript (=without any libraries or frameworks) might NOT be all you need
• An overview what JavaScript frameworks are and where to use them
• Detailed introductions to the three most relevant JavaScript frameworks as of today: Angular (2, 4), React.js and Vue.js
• An introduction to Webpack and why we use it (and build workflows in general)
• A detailed comparison of the three frameworks shown in this course – when could you pick which?
• A detailed understanding of the JavaScript world as it is today