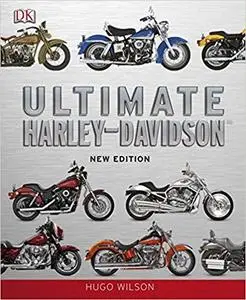 Ultimate Harley Davidson by Hugo Wilson
English | 2013 | ISBN: 1409328740 | 218 Pages | PDF | 73.8 MB
Celebrate 110 years of Harley Davidson with this definitive guide. "Ultimate Harley-Davidson" showcases the bikes and the success story of the greatest American marque in motorcycling history, from the rolling out of its first model from a backyard shed to the world-class company that it is today. Spanning the entire timeline, from the beginning of the early bikes and innovations to the v-rods and sports bikes of today, the amazing gallery of over 70 of the most covetable Harleys ever created will get your engine revving. This completely updated catalogue of every production model provides technical data and key innovations for each bike, and also includes racing models, special one-offs, and limited-edition production runs. "Ultimate Harley-Davidson" (previous ISBN: 978140530226), now with a new jacket and updated timeline, is the complete guide for lovers of this American classic, whether you're an easy rider or born to be wild.