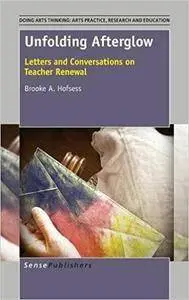 Unfolding Afterglow: Letters and Conversations on Teacher Renewal by Brooke A. Hofsess
English | 2016 | ISBN: 9463005307 | 284 Pages | PDF | 35.8 MB
Unfolding Afterglow examines professional learning in the contemporary milieu of public education, considering the impact of No Child Left Behind and Race to the Top on such encounters for art educators. Drawing from prominent scholars of philosophy and education (Greene, Dewey, Gadamer), aesthetic experiential play is theorized as a catalyst for teacher renewal through the embodied intensities (Merleau Ponty, Deleuze) it prompts: an aesthetic swell and afterglow. The swell is conceptualized as a movement that unmoors teachers as learners, setting them adrift towards unanticipated, surprising possibilities. Afterglow is an illuminated space that unfolds with a commitment and openness to move in swell towards the ever expanding new. This text invites readers into the findings of a qualitative research inquiry by unfolding a yearlong correspondence of letterpress printed postcards and hand rendered letters exchanged between the author and a cohort of K-12 art teachers. The innovative epistolary form evokes the relational and arts-based educational research methodologies that informed this lively aesthetic inquiry, providing new directions and possibilities for both art educators and arts researchers to explore. Advocating for more complex understandings regarding how educators become renewed as artists and as teachers, this poetic and pictorial text provokes an expanded vision for what counts as professional learning, and the processes by which teacher renewal is nourished and experienced.