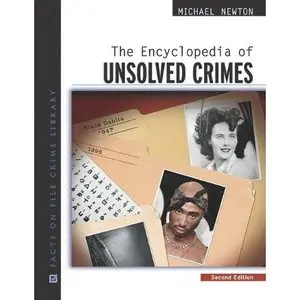 Michael Newton, "The Encyclopedia of Unsolved Crimes"
Facts on File | 2009 | ISBN: 0816078181 | 436 pages | PDF | 5,8 MB
When it comes to crime, truth is often stranger than fiction. Many of the cases that have stumped investigators are among the strangest on record. Whether due to a lack of leads and evidence or to bizarre and baffling circumstances, many of the mysteries presented in this book have remained unsolved despite years of investigation by qualified law enforcement agents. Several of them have become legendary and drawn the attention of amateur sleuths around the world, but still they remain open. "The Encyclopedia of Unsolved Crimes, Second Edition" examines more than 800 cases in total and presents readers with the facts, evidence, and theories connected with each one. This compelling encyclopedia presents criminal mysteries from the 19th and 20th centuries, including murders, robberies, missing persons, kidnappings, serial killers, and more. Each entry documents the events of the crime, the victims, the alleged perpetrators, the key points of the police investigation, and the current status of the case. More than 90 new cases have been added for the new edition, and many others have been updated to reflect recent developments. Cases covered include: The Anthrax murders; The Black Dahlia; Bob Crane; Iranian Chain Murders; Jimmy Hoffa; Natalee Holloway; Jack the Ripper; Madeline McCann; Tylenol Murders; and, Zodiac Killer. Written in a straightforward, A-to-Z format and featuring 69 black-and-white photographs, "The Encyclopedia of Unsolved Crimes, Second Edition" is a must-read book for anyone who wants to know more about these mysteries.
Summary: Very good book
Rating: 5
This is quite an interesting book for true crime fans. It gives the basic details of quite a few crimes. The author seems to have made an effort to include crimes from all over the world.
However, he did not include the deaths of Bobby Fuller and Valerie Percy, nor the disappearance of Richard Cox.
Summary: The Encyclopedia of Uncolved Crimes
Rating: 5
This is a great book for any crime buff. Or for any college student that may have to do a report on crime or a criminal. I only read true crime books. I do not read make-believe romance or anything else make-believe. Only true crime. 95% of my TV watching are true crime shows and movies. If a make-believe crime movie is good I'll watch that. This book is all about unsolved crimes and there are alot of people in the book that are not famous. There are a few other "The Encyclopedia of…." to go along with this one and I recommend them all. They are all great reading and alot of the stories leave you wondering "Why?".
Not all books on AvaxHome appear on the homepage.
In order not to miss many of them follow
ebooks section
(see top of each page on AH)
and visit
my blog
too :)
NO MIRRORS according to the rules