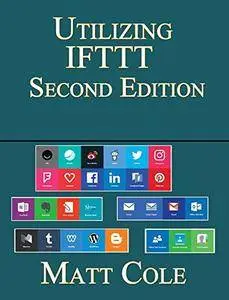 Utilizing IFTTT: Second Edition by Matt Cole
English | 19 Jan. 2017 | ISBN: 1542658268 | 59 Pages | PDF (conv) | 1.42 MB
The purpose of this book is to introduce you into the web-based IFTTT application.
IFTTT is the mnemonic for If This Then That. This free web-based application is an online utility to provide an easy means to connect two services and automate simple tasks.
The result is the reduction of every day, or every hour, electronic functions, providing you more time.
You do not have to be technically savvy to use IFTTT. Rather, it is made to minimize and simplify tasks. These tasks include, but are not limited to;
•auto-posting blog posts with one simple action,
•auto send a tweet out from a post,
•update cross-platforms from one source,
•log actions from a social platform,
• set up smart appliances tasks,
•and much, much more.