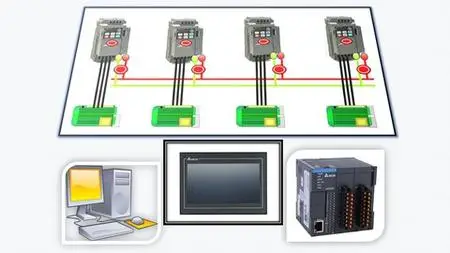 VFD Real Applications With Plc - Modbus -HMI - Softwares
MP4 | Video: h264, 1280x720 | Audio: AAC, 44.1 KHz
Language: English | Size: 7.18 GB | Duration: 9h 16m
Learn AC Drive Applications with Real Hardware and AS200 Plc - DOP 100 HMIs - RS-485 Communication and Softwares
What you'll learn
Delta AC Drives
Modbus Communication
HMI Programming
DOPSoft
ISPSoft
Plc Programming Basics
Motor Control Basics
AS200 Series Plc Basics
Technical Informations About Industrial Automation
Applications and Realities
VFD Basics
PID Control of VFD
VFDSoft
Schneider ATV12 VFD
Schneider VFD Control Methods
Schneider VFD Basics
Requirements
You need to be willing to learn and be patience .You need to keep following instructions and applications carefully
Description
Dear friends,
In this course, we made applications for you by using delta vfds , other vfds and real hardware.
You will see how we can control a 3 phase motor.
You will see how the parameters of delta vfds affect the motor.
We read all the values ​​of the vfd over Modbus communication and wrote the values ​​to the vfd.
We run the vfd with the keypad on it.
We run the vfd with the buttons on it.
We run the vfd frequency with digital potentiometer or up and down keys.
At the same time, we checked the vfd with the external terminals.
We wrote a frequency value to the vfd with an external potentiometer.
We controlled the vfd with serial communication over PLC and wrote all frequency values ​​over communication.
At the same time, we gave the forward-reverse and stop-run commands of the vfd over communication.
We have programmed the terminals on the vfd and made applications for you to do almost any application.
We did PID control with the vfd.
We applied different voltages to the vfd and the motor, applied dc brakes and monitored all results.
With the Dopsoft program, we checked the vfd via hmi.
While learning dopsoft on the one hand, we showed all the values ​​of the vfd on the screen with dopsoft on the other hand.
And we wrote to the vfd from the screen.
We learned about plc programming by making small applications with basic plc programming training.
With the VFDSoft program, we connected to the vfd and checked the vfd on the computer.
We backed up the vfd parameters and uploaded the backed-up parameters to the vfd.
We watched and recorded the vfd's information with the trend.
We have seen how we can easily change the parameters of the vfd with vfdsoft.
In short, what you will learn in this training;
- Delta AC Vfds
- Delta VFD Parameters and Applications
- Schneider ATV Vfds
- Schneider ATV12 VFD Applications
- Schneider ATV12 VFD Control Methods
- VFDSoft
- ISPSoft
- Basics of Plc Programming
- AS200 Series Plc
- DOPSoft
- DOP 100 HMI Basics
- Complete Modbus (RS-485) Communication
- PID Control
- Motor Control for Different Conditions and Applications
And much more than these.
The most important point for this course is that all the information is included in the course practically.
All technical details are practically demonstrated and applied.
Who this course is for:
Anyone wanting full control of delta vfds
Anyone who wants to do modbus communication with Delta vfds
Anyone who wants to use delta vfds in all kinds of applications
Anyone who wants to improve plc programs and applications