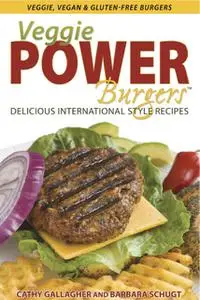 «Veggie Power Burgers» by Barbara Schugt, Cathy M.C. Gallagher
English | EPUB | 14.1 MB
Cookbook with thirty veggie burger recipes, a healthy living section, sauces to compliment the burgers and menus for a totally nutritionally dense meal. Vegan and Gluten-Free recipes are included. Egg substitutes are included. Sauces to compliment the burgers and provide an international flavor are included. Recommendations on preventing heart disease, diabetes, and cancer using food are in the healthy living sections. The burgers are low in calories and assist in weight loss. The naturally occurring vitamins, minerals and healthful phytochemicals, isoflavones, lignans and flavonoids will keep you younger looking and full of energy.