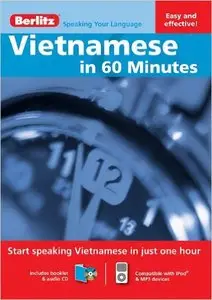 Vietnamese in 60 Minutes
Audio CDs: English / Vietnamese: MP3, 69 Kbps (2 channels) | Duration: 00:59:40 | 2009 | ISBN-10: 9812686592
Overal size: 25 MB | Genre: Learning Vietnamese | Level: Beginner
Start speaking Vietnamese in just one hour! This brand new, all-audio course has been specially designed to provide a quick and easy start to learning basic, everyday words in a foreign language. Covers 250 of the most commonly used words and phrases over a range of subjects. Each word and phrase is repeated to aid easy memorisation and encourage correct pronunciation. A 16-page accompanying booklet includes all the words and phrases presented on the CD to help associate the written language with the audio. This course is also compatible with iPod and MP3 devices for those wanting to learn on the move, so there really is no excuse not to start speaking Vietnamese straightaway!
Download other Vietnamese courses:
Vietnamesepod101
Learn Vietnamese: Vocabulary 2001
Colloquial Vietnamese
Teach Yourself Vietnamese
Le Vietnamien sans Peine
Learn Vietnamese: Vocabulary (Mac Os X)
Vocabulearn Vietnamese: Level 1+2
Look here other linguistic courses:

My News