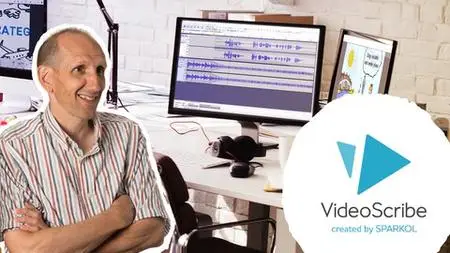 VideoScribe Expert Training: Producing Professional Videos
MP4 | Video: h264, 1280x720 | Audio: AAC, 44100 Hz
Language: English | Size: 541 MB | Duration: 54m
How to use third party tools to create professional audio and customized images for your VideoScribe projects
What you'll learn
How to prepare your recording area with the equipment and audio software you'll need
How to record your voice-over using third party software such as Audacity
How to make edits to your voice-over, such as removing mistakes or changing the length of the pauses
How to apply audio effects, such as noise reduction, to your recording
How to mix multiple tracks, such as a voice-over and a backing track
How to create images that draw well in VideoScribe using Illustrator
How to use layers to add colors and reveal paths to your images
How to customize the way your image colors will be drawn
How to convert complex images into SVGs that will draw well in VideoScribe
Requirements
You should have good practical experience creating videos using VideoScribe and a solid understanding of all the basics
Ideally you should have previously completed the 'VideoScribe Fundamentals Training: Creating Animated Videos' course and/or the 'VideoScribe Advanced Training: Mastering Whiteboard Animation' course
You will need a VideoScribe account - paid subscription preferred
You will also need audio editing software - we use Audacity on the course
You will also need vector graphics software - we use Adobe Illustrator on the course
Description
My name is Jonny Finch and I'm the Head Trainer here at Sparkol, the creators of VideoScribe. I've been working with VideoScribe and teaching people how to get the most out of our software for over 7 years now.
In this course, I'll show you how you can use third party tools to help your VideoScribe projects stand out and make them even more captivating.
This course is aimed at experienced users who already know the basics and have created a number of videos using VideoScribe. In the first section you'll learn how to use Audacity to create professional quality audio which you can use in your videos. Then in the second section you'll learn how to use Adobe Illustrator to create your own customized images which will then draw in VideoScribe.
If you haven't already, I recommend you complete our 'VideoScribe Fundamentals Training: Creating Animated Videos' course and/or our 'VideoScribe Advanced Training: Mastering Whiteboard Animation' course before starting this one.
This course focuses on how to use specific features within these third party tools to create your own audio and image files that enhance your VideoScribe projects. And you won't need any existing experience using these tools as I'll be showing you everything you need to know. Enroll now to get started!
Who this course is for:
Existing VideoScribe users who've mastered the basics and want to learn more expert techniques
Experienced VideoScribe users who want to create even more professional-looking videos