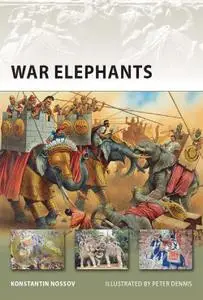 War Elephants (New Vanguard, Book 150) by Konstantin Nossov, Konstantin S Nossov
English | April 17th, 2012 | ISBN: 1846032687 | 48 pages | EPUB | 6.22 MB
Elephants have been deployed as weapons for centuries, particularly in South and South-East Asia, where war elephants constituted the bulk of most armies in the region from antiquity right up to the 19th century. This book offers an insight into the incredible history of these 'living tanks,' focusing on the design of the equipment and armament that made them so terrifying. The author, Konstantin S Nossov, traces the history of war elephants, from their deployment against Alexander the Great's army at the battle of Gaugamela, through to their use in the 19th century by the armies of South-East Asia, analyzing the battle formation and tactics of war elephants in action and how these tactics developed.
Enjoy
My Blog
. No any convert or low quality!