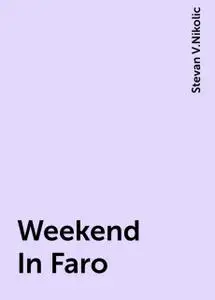 «Weekend In Faro» by Stevan V.Nikolic
English | EPUB | 0.0 MB
Weekend in Faro is an illuminating novel about following your heart, understanding your passions, finding your soul, and believing in something greater than yourself that makes life worth living.
The bizarre life journey of Michael Nicolau comes to its pinnacle when he meets Maria one January weekend in the picturesque coastal town of Faro, in southern Portugal.
In this fantasy romance, the author successfully juggles the imaginary world of dreams, living gods, and arcane magic with the real world of deceit and lies, erotic encounters, unfulfilled love, spiritual alienation, and man's eternal quest for inner peace and happiness.