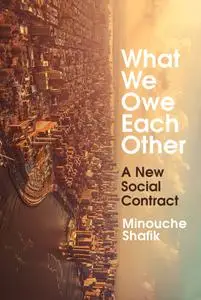 What We Owe Each Other: A New Social Contract by Minouche Shafik
English | March 4th, 2021 | ISBN: 1847926274 | 256 pages | True EPUB | 6.09 MB
One of the world's most influential economists sets out the basis for a new social contract fit for the 21st century
'Intelligent and lucid' Martin Wolf, Financial Times, Best Summer Reading 2021
'In the tradition of Beveridge, Shafik points us toward … a hopeful framework for social, economic, and political renewal' Michael J. Sandel
'Wonderfully illuminating of our interdependence' Amartya Sen
'A powerful and persuasive moral argument … rigorous and specific enough to help readers think practically about the policies needed' Melinda Gates
—-
The social contract shapes everything: our political institutions, legal systems and material conditions, but also the organisation of family and community, our well-being, relationships and life prospects. And yet everywhere, the social contract is failing.
Accelerating changes in technology, demography and climate will reshape our world in ways many of us have yet to grasp. In this landmark study, Minouche Shafik, Director of the London School of Economics, draws on evidence from across the globe to identify the key principles every society must adopt if it is to meet the challenges of the coming century, with profound implications for gender equality, education, healthcare provision, the role of business and the future of work.
How should society pool risks, share resources and balance individual with collective responsibility? Brilliantly lucid and accessible, What We Owe Each Other offers new answers to these age-old questions and equips every reader to understand and play their part in the urgent and necessary transformation ahead.
—-
'A necessary contribution at a turning-point in history … a must-read' Ursula von der Leyen
'Beautifully argued … a must-read for all those seeking to understand why the bonds that bind society together are so frayed and what we can do about it' Ngozi Okonjo-Iweala
'Weaves economics, philosophy, wisdom and common sense into a social contract of simplicity, solidity and harmony. A must-read recipe for the improvement of our life together' Christine Lagarde
'A thought-provoking addition to our current, urgent debates' Daron Acemoglu
Enjoy
My Blog.
No any convert or low quality!