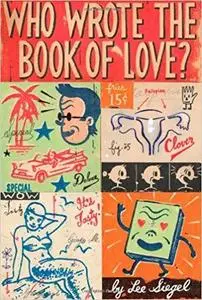 Who Wrote the Book of Love? by Lee Siegel
ISBN: 0226757005 | 248 pages | PDF | August 1, 2005 | English | 1.38 Mb
Who Wrote the Book of Love?
is acclaimed novelist Lee Siegel's comedic chronicle of the sexual life of an American boy in Southern California in the 1950s. Starting at the beginning of the decade, in the year that Stalin announced that the Soviet Union had developed an atomic bomb, the book opens with a child's first memory of himself. Closing at the end of the decade, when Pat Boone's guide to dating,
'Twixt Twelve and Twenty
, topped the bestseller list, the book culminates just moments before the boy experiences for the first time what he had learned from a book read to him by his mother was called "coitus or sexual intercourse or sometimes, less formally, just making love." Between the initial overwhelmingly erotic recollection and the final climactic moment, all is sex—beguiling and intractable, naughty and sweet.
Who Wrote the Book of Love?
is about the subversive sexual imaginations of children. And, as such, it is about the origins of love.
Vignettes from the author's childhood provide the material for the construction of what is at once comic fiction, imaginative historical reportage, and an ironically nostalgic confession. The book evokes the tone and tempo of a decade during which America was blatantly happy, wholesome, and confident, and yet, at the same time, deeply fearful of communism and nuclear holocaust. Siegel recounts both the cheer and the paranoia of the period and the ways in which those sentiments informed wondering about sex and falling in love.
"Part of my plan," Mark Twain wrote in
The Adventures of Tom Sawyer
, "has been to try to pleasantly remind adults of what they once were themselves, and of how they felt and thought and talked." With the same motive, Lee Siegel has written what Twain might have composed had he been Jewish, raised in Beverly Hills in the 1950s, and joyously obsessed with sex and love.
Feel Free to contact me for book requests, informations or feedbacks.
Without You And Your Support We Can't Continue
Thanks For Buying Premium From My Links For Support