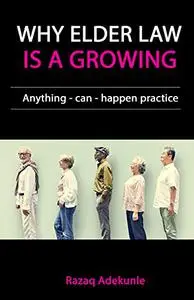 Why Elder Law Is A Growing : Anything-can-happen practice by RAZAQ ADEKUNLE
English | 2021 | ISBN: N/A | ASIN: B097NH6CYT | 125 pages | EPUB | 0.17 Mb
All of us will get aged - and that's a fact. This is the reason why we should take time to learn about the scope of Elder Law particularly the benefits and privileges we can get as we reach our senior years. Apart from getting benefits for ourselves, we can also help other people (by sharing what we learn) particularly the old ones who might be not aware of the laws concerning their welfare. This book introduces to you why Elder Law involves the legal issues that result as a consequence of the aging process. This is a rather narrow field and can be a little confusing to some senior citizens.
What You are going to Learn in this Book:
The Ultimate Role of Elder Law in Society- Certain specialists in the legal sector are interested in defending vulnerable populations. This section gives in details why elder law in society is important
How Elder Care Lawyers Help Seniors- When we mature, many of us face problems that we've never had to deal with before. Estate planning, Retirement planning, guardianships, trusts, social security, long-term medical needs, Medicaid and Medicare are only a few of the problems that older people face every day.
Concerned About Growing Older? Elder Care Lawyers Can Help - As we get older, a lot of issues arise that we never had to worry about before. Issues such as where to live if we can no longer keep our own homes, how to write a will, and even if and when to make advance funeral plans can be tricky issues to figure out for ourselves.
What To Look for In Elder Law Lawyers- When a person comes in years and determines that they need senior lawyers to assist them with their current and post-life assets, wills, trust, and more, it is vital to find an accomplished and trustworthy professional.
Do Not Be Deceived by 'Elder Abuse' Attorneys and Their Agendas- Our end of life is fraught with many problems, and we do not know how or when they will depart from us. It can be quick or long, goodbye.
When you need senior legal assistance regarding elder law issues such as planning your estate or arranging a guardianship, be sure you take the right paperwork to your initial meeting with elder law or litigation attorneys.
Read this book to find more.
Feel Free to contact me for book requests, informations or feedbacks.
Without You And Your Support We Can't Continue
Thanks For Buying Premium From My Links For Support