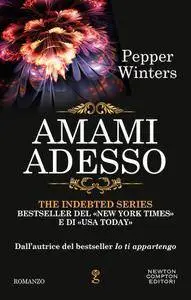 Pepper Winters - The indebted vol.04. Amami adesso
Italian | 2017 | 314 pages | ASIN: B0721P3JRV | EPUB | 0,4 MB
Bestseller del New York Times e di USA Today Dall'autrice di Io ti appartengo The Indebted Series "Lei mi ha guarito. Poi mi ha distrutto. L'ho lasciata libera. Ma siamo insieme. Saremo insieme fino in fondo. Le regole di questo gioco antico non possono essere infrante". Nila Weaver non si riconosce più. Ha lasciato il suo amante, il suo coraggio, e le sue promesse. Due debiti sono stati saldati. Ne mancano ancora troppi. Jethro Hawk non si riconosce più. Ha abbracciato tutto ciò da cui era sempre fuggito, e ora deve affrontare una punizione peggiore di quel che temeva. È quasi arrivato il momento. Bisogna pagare. Il terzo debito sarà la prova definitiva. Pepper WintersÈ un'autrice bestseller del «New York Times» e di «USA Today». Ama leggere e viaggiare e i suoi libri sono ormai tradotti in numerose lingue. La Newton Compton ha pubblicato Io ti appartengo, Io ti pretendo e Nessuna scelta.