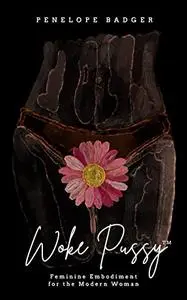 Woke Pussy™: Feminine Embodiment for the Modern Woman by Penelope Badger
English | 2022 | ISBN: N/A | ASIN: B09YDM8GQQ | 232 pages | PDF | 4.60 Mb
This book walks you step by delicious step, down the path to deep embodiment, sensual bliss, healing, and erotic power. I have outlined all the tools you will need for your journey, along with over 20 exercises for you to get hands on with your practice.
The Woke Pussy™ Protocol is also included, so you can easily follow the plan week by week, or work through the book at your own pace.
Upon completion, you will be prepared to move on to the advanced sex magick practices taught in Magick Pussy
(Out Fall '22)
What is Woke Pussy™?
Woke Pussy™ is a frequency, a vibe if you will. It isn't a what, as much as it is a how. It's a path of healing, integration, and physicality. A path that leads to true power, delicious pleasure, and pure fucking magic.
Woke Pussy™ is the way of the modern day priestess; an awakened woman embodying her full divine power.
For more information about the author or current in-person and online offerings visit wokepussy.com
Feel Free to contact me for book requests, informations or feedbacks.
Without You And Your Support We Can't Continue
Thanks For Buying Premium From My Links For Support