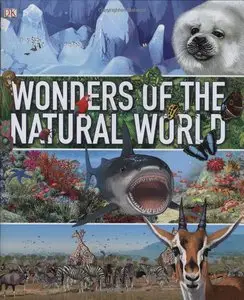 Wonders of the Natural World
Publisher: DK CHILDREN | 2007 | ISBN: 0756629802 | Pages: 68 | PDF| 22 MB
Wonders of the Natural World takes you to the heart of the world's top 10 most amazing destinations. Stunning visuals and supporting maps, charts, and data boxes introduce the geography, climate, inhabitants and other special features of each natural wonder. The incredible specially commissioned illustrations convey in exquisite detail what no photograph alone can show. They will both engage the young reader and provide an invaluable reference tool.
6–7 Wonders of the world
8–9 Grand Canyon
10–11 North face
12–13 Grand tour
14–15 Antarctica
16–17 Ice stage
18–19 Life on the ice
20–21 Amazon Rain Forest
22–25 Tall tree
26–27 Norwegian Fjords
28–29 On the waterfront
30–31 Focus on the fjords
32–33 Rift Valley
34–35 Herds and hunts
36–37 Grass roots
38–39 Mauna Loa
40–41 Protected land
42–43 Lava living
44–45 Great Barrier Reef
46–49 Underwater world
50–51 Namib Desert
52–53 Dune-dwellers
54–55 Sand survival
56–57 Mount Everest
58–59 High life
60–61 Adapting to altitude
62–63 Glossary
No Mirrors please!