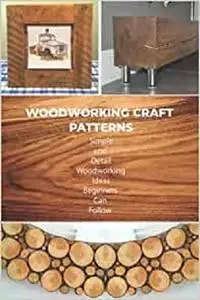 Woodworking Craft Patterns: Simple and Detail Woodworking Ideas Beginners Can Follow: Woodworking Tutorials by Mr NGUYEN LISA
English | July 9, 2021 | ISBN: N/A | ASIN: B0991LPTGX | 55 pages | EPUB | 4.89 Mb
If you are have thought about quilting, but, had no idea where to begin; you just found your starting point. This book is designed to get true beginners working on their first quilt.When you look at a gorgeous handmade quilt you think how difficult it must be and that you could never do that; yes you can! This book is designed for those that doubt themselves in the field of quilt making. The process can be time consuming, but, with this book you will learn everything you need to know to start and succeed with quilting.
Feel Free to contact me for book requests, informations or feedbacks.
Without You And Your Support We Can't Continue
Thanks For Buying Premium From My Links For Support