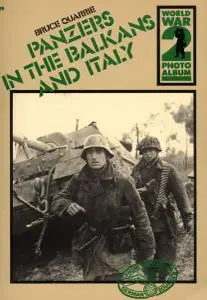 Bruce Quarrie - Panzers In The Balkans And Italy
Patrick Stephens Ltd. | 1981 | ISBN: 0894040596 | English | 98 pages | PDF | 60.62 MB
World War 2 Photo Album Number 19
In the Balkans Hitler, partly through his own obstinacy and partly through the sheer incom­petence of his allies, was embroiled in a cruel guerrilla campaign. The partisans, operating from their mountain hideouts, were able to keep the Germans engaged in a contest which they could not win, but which they could not afford to lose. And all the time valuable resources were being drained from such vital theatres as Russia and Italy. Here, told with the aid of many high quality photographs taken by German war correspondents, is one of the stories which decided the outcome of the war.