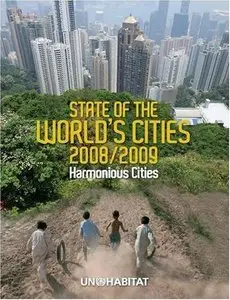 UN-HABITAT, "The State of the World's Cities 2008/9: Harmonious Cities"
Earthscan Publications Ltd. | 2008 | ISBN: 1844076954 | 282 pages | PDF | 37,5 MB
The world's urban population now exceeds the world's rural population. But with the concomitant strain this will place upon current urban infrastructures, what does this mean for the state of our cities? This book adopts the concept of Harmonious Cities as a theoretical framework in order to understand today's urban world, and as an operational tool to confront the most important challenges facing urbanization and development processes. For the first time, preliminary findings of a global analysis of spatial, socio-economic and environmental dimensions at the city level are presented in order to promote greater understanding of the dynamics and forces that promote harmony in cities. The book also analyzes the determinants of urban growth or decline, which can help guide planners in supporting processes that lead to harmonious urban development. The impact upon cities of critical emerging issues, such as climate change and rising sea levels, are also addressed.
The book concludes with a description of new and innovative strategies employed by urban planners and policymakers to harmonize both the tangible and non-tangible assets of cities, and argues that the management and development of a city's human, social, environmental, cultural and intellectual assets is as important as the management and development of its physical infrastructure. This is indispensable reading for all those involved in urban planning, local governance and poverty reduction.
Not all books on AvaxHome appear on the homepage.
In order not to miss many of them follow
ebooks section
(see top of each page on AH)
and visit
my blog
too :)
NO MIRRORS according to the rules