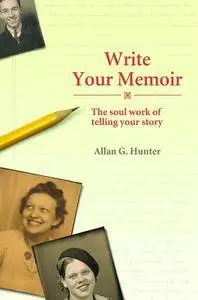 Write Your Memoir: The Soul Work of Telling Your Story by Allan G. Hunter
English | June 1st, 2012 | ASIN: B078SW733M, ISBN: 1844091775 | 180 pages | EPUB | 0.25 MB
Drawing from more than 25 years of literary know-how and modeled after a 15-week college course, this manual provides guidance for seekers wishing to delve further into self-exploration through writing. Extending beyond the idea that memoir writing intends to put past events into a more understandable current perspective, the guide maintains that keeping a document of one's life is actually the basis of a psychic process called "soul work," which manifests as a desire to experience the state of being alive to the fullest.
This unusual approach to memoir writing aims to generate more honest and genuine results that come from inner needs rather than outer expectations. Intended to clarify a writer's developmental path, this resource emphasizes the importance of self-awareness and the need for dealing with difficult material that actually alters the writer in the process, resulting in significant growth of the soul.