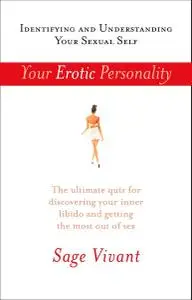 Your Erotic Personality
by Sage Vivant
English | EPUB | 1.4 MB
What kind of sexual person lurks under that innocent demeanor of yours?  
Which of the following best describes your erotic personality?  
The Escapist * The Romantic * The Cuckold * The Wanderer
The Top * The Bottom * The Name-Dropper * The Show-Off *
The Watcher * The Partier * The Student * The Risk Taker  
Dare to find out what you really want? What your partner needs?  
With this ultimate sex quiz and in-depth analysis, seasoned sexual-personality expert and customized erotica entrepreneur Sage Vivant shows readers how to identify and explore their own unique libidinous imprint. So push your fantasies into overdrive and indulge, find the right partner and explore, face turn-ons with adventurous uninhibited pride, plow through that sexual roadblock, and finally let loose…  
Discover your erotic personality now. And make someone happy, even if it's just yourself!