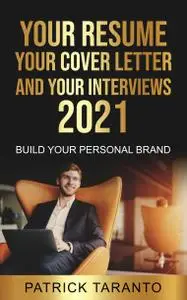 Your Resume, Your Cover Letter and Your Interview 2021 by Patrick Taranto
English | February 3rd, 2021 | ISBN: 9781005899325 | 161 pages | True EPUB | 0.65 MB
Everyone wants to venture into the right career and get the perfect job. But sometimes it is hard to know where to start your journey to greatness. By getting a copy of Your Resume Your Cover Letter and Your Interview, a book written by a career coach with over 30 years of experience, you get the best advice based on real-life situations that covers all the topics from choosing the right career path to getting your dream job. It is the perfect guide for young graduates, executives, inventors, and anyone who needs guidance.
Here is what you will get in the book:
• How to define your interest, values, skills, experience, education, and knowledge
• Job search management: defining your goal and planning for the job search
• Communicating your offer through advertisement, resume, and cover letter writing
• LinkedIn tips and tricks that can land you your dream job and connect you to the right people
• All about interviews, contract, and salary negotiation
Enjoy
My Blog.
No any convert or low quality!