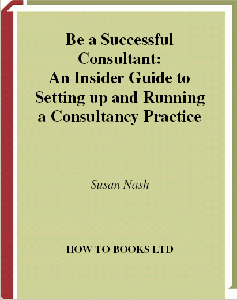 Susan Nash, «Be a Successful Consultant - An Insider Guide to Setting up and Running a Consultancy Practice»
How To Books Ltd, | ISBN N/A | 2003 | PDF | 254 Pages | 2,0 Mb
The business environment is changing drastically. No longer is there long-term employment and job security. Consulting has become a viable and growing working option for individuals since the 1990s. However consulting does not provide a miracle solution to work options. Be a Successful Consultant is designed as a workbook containing a wide variety of exercises that you can complete to help you make a consulting career for yourself a reality not just a possibility.
Who can this book help?
This book has been written for professionals, with specific functional knowledge, experience or expertise, who wish to evaluate whether they want to be consultants and consider an alternative lifestyle to full-time work. So this book is for:
Individuals who are debating leaving 'corporate life' and want to explore alternative career options.
Consultants who are running their own business who want to increase their market share and revenue.
People between jobs who wish to generate income.
Entrepreneurs in the making who wish to begin an independent life style.
Those who are looking for greater flexibility and more choices in the work they wish to do.
What will you achieve by using this book?
After reading this book, you will:
Have a clear understanding of consulting and the entire consulting process.
Understand the benefits and challenges of consulting as a career choice.
Learn how your own strengths and challenges fit with the consulting lifestyle.
Be able to define and establish the strategic direction for your consulting business.
Be able to create and implement a marketing strategy.
Learn skills and practical tools to find clients and close deals.
Understand how to raise finances and maintain financial control of your business.
Be able to balance on-going business while maintaining the marketing process to avoid the 'feast or famine' syndrome.
Know how to organize your consulting business.
Have paying clients!
Password:
spiderman
http://rapidshare.de/files/24666204/BASC_2K3.rar
PS: I will appreciate if my uploaded file isn't mirrored. Thanks