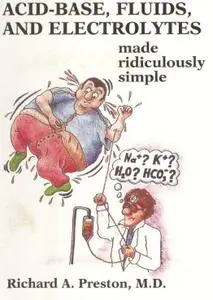 Richard Arthur Preston, «Acid-Base, Fluids, and Electrolytes Made Ridiculously Simple»
Medmaster | ISBN 0940780313 | 2002 Year | PDF | 87 Mb | 156 Pages
A brief, highly readable book providing the clinician with a straightforward approach to solving even the most complex, acid-base, fluid, and electrolyte problems. Useful to medical students, interns and residents, nurses responsible for IV fluid therapy, and first year nephrology fellows.
Book Info
Univ. of Miami, FL. Concise handbook on solving problems concerning complex fluid, electrolyte, and acid-base complications. For medical students, interns, residents, nurses and nurse practitioners, and first-year nephrology fellows.
Spotlight ReviewsI'm glad I found this - fluids and acid/base is one of those topics that is easy to get a grip on (even basic EMT's have a fair working knowledge of it) but very difficult to master, unless someone shows you the path. In this case, the path goes through the loop of Henle, and while you will get lost if you don't know your renal physiology (you better know the loop cold) this is the best little volume I've ever seen for laying it all out. It is a very dense book - there is no fluff. I gave up highlighting after a while because nearly every line was important. It will also bear repeated readings. Some of the chapters only made sense on the second or third reading, and this was with the material made as simple as it could be made. But if you're stuck on nephrology and acid/base and can't seem to make heads or tails of this topic, I highly recommend this little book. It also greatly benefits from multiple real world exercises using the many formulae that you'll learn, calculating fluid and electrolyte defecits. Great stuff.
For PA's and MD's (and students of same.) I can't see it being of any real use to staff nurses unless they work in a really high speed ICU or they just want to know a lot more than they learned in school.
This is a wonderful little book that makes these complex topics clear. The concepts are laid out in easy-to-follow steps, and the cases at the end of each chapter really help you integrate the concepts.
If you are looking for a clear introduction to this complex topic, you will find this book a superb guide. I've enjoyed Acid-Base the most of the "Ridiculously Simple" series, and found it to be elegantly simple.
download:
http://rapidshare.de/files/26687747/Acid-base_and_electrolytes_made_ridiculously_simple.part01.rar.html
http://rapidshare.de/files/26689548/Acid-base_and_electrolytes_made_ridiculously_simple.part02.rar.html
http://rapidshare.de/files/26691039/Acid-base_and_electrolytes_made_ridiculously_simple.part03.rar.html
http://rapidshare.de/files/26692730/Acid-base_and_electrolytes_made_ridiculously_simple.part04.rar.html
http://rapidshare.de/files/26692637/Acid-base_and_electrolytes_made_ridiculously_simple.part05.rar.html
http://rapidshare.de/files/26694204/Acid-base_and_electrolytes_made_ridiculously_simple.part06.rar.html
http://rapidshare.de/files/26694665/Acid-base_and_electrolytes_made_ridiculously_simple.part07.rar.html
http://rapidshare.de/files/26694489/Acid-base_and_electrolytes_made_ridiculously_simple.part08.rar.html
http://rapidshare.de/files/26695344/Acid-base_and_electrolytes_made_ridiculously_simple.part09.rar.html
(no oxyshare please)
More similar books
K/DOQI Clinical Practice Guide...sification, and Stratification
The Kidney at a Glance
Sepsis, Kidney And Multiple Organ Dysfunction
Acute Renal Insufficiency Made Ridiculously Simple
Manual of Nephrology
Kidney And Blood Pressure Regulation (Contributions to Nephrology)