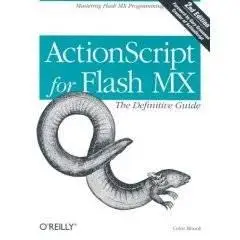 ActionScript for Flash MX: The Definitive Guide
O'Reilly Media; 2 edition (December 19, 2002) | PDF Format | 1104 pages | ISBN: 059600396X | 1.9 MB
Updated to cover Flash MX, the newest version of Macromedia Flash, ActionScript for Flash MX: The Definitive Guide, Second Edition is the one book no serious Flash developer should be without. ActionScript is Macromedia's programming language for Flash MX, the popular authoring tool for creating rich internet applications and animations for the Web. With Macromedia's new focus on application development, ActionScript now includes a direct drawing API, loading of external MP3 and JPG files, improved sound control, an extensive set of text formatting tools, complete support for component development using movie clip subclasses, local data storage, accessibility features, and much more.