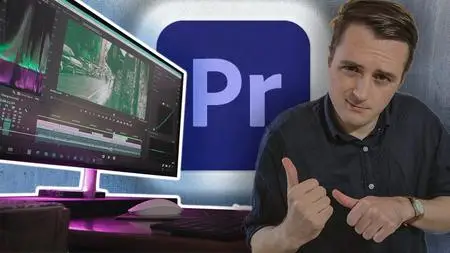 Adobe Premiere Pro CC 2020 - The Essentials of Video Editing
Video: .mp4 (1280x720, 30 fps(r)) | Audio: aac, 48000 Hz, 2ch | Size: 1.76 GB
Genre: eLearning Video | Duration: 29 lectures (2 hour, 52 mins) | Language: English
Video Editing Essentials with Adobe Premiere Pro CC 2020 - Building your skills as an Adobe Premiere Pro Video Editor
What you'll learn
Starting a New Project in Premiere Pro + Project Settings
Learning How To Use Workspaces + Panels in Premiere Pro
Creating Your Own Customized Workspace Layout in Premiere Pro
The Project Panel + Creating Bins to Organize Everything
An Introduction to the Timeline in Adobe Premiere Pro 2020
Understanding The Audio Track Mixer
Sequence Settings in Premiere Pro 2020
Understanding Frame Size + Frame Rate
Editing Talking Head Footage with Jumps Cuts
Editing Talking Head Footage with L & J Cuts, Zoom Cuts & Broll Cuts
Adding an Adjustment Layer to the Premiere Pro Timeline
Finding Premiere Pro Graphics Templates for Your Project that you Can Easily Drop into any Project
Basic Color Correction & Lumetri Scopes in Adobe Premiere Pro CC 2020
Color Grading: Adding a Stylized 'Look' to Your Footage in Adobe Premiere Pro
Color Grading: The 'Hollywood' Orange & Teal Look, & Using LUTs in Premiere Pro
Lumetri RGB Curves: Adjusting All Colors in Premiere Pro
Lumetri RGB Curves: Adjusting Red, Green & Blue in Premiere Pro
Hue Saturation Curves in Adobe Premiere Pro CC 2020
Requirements
You need Adobe Premiere Pro CC (creative cloud) 2020 installed on your computer, but earlier versions of Premiere Pro should be fine as well
No previous experience of Adobe Premiere Pro or video editing is necessary as I'll get you familiar with the layout of Premiere Pro and walk you through the basics of video editing with this software
Description
Adobe Premiere Pro CC 2020-Beginner Video Editing Essentials
If you are new to the whole world of video editing with Adobe Premiere Pro, video production, video content creation etc then this beginner video editing class will help get you started as I walk you through the basics of using Adobe Premiere Pro CC 2020.
Maybe you've set your sights on becoming the world's greatest YouTuber, maybe you want to get freelance work as a video editor using Adobe Premiere Pro, or maybe you just want to make some entertaining cat videos for your mom that have a level professionalism above the rest. All of these goals can be achieved by taking this Premiere Pro class.
If you've decided that Adobe Premiere Pro is going to be your video editing program of choice from now on to churn out some professional looking video content, then this Premiere Pro class is going to take you through all the basic video editing skills and techniques that you need to create professional, great looking video content using Adobe Premiere Pro CC 2020.
And keep a lookout because I will be adding a few bonus sections to this Adobe Premiere Pro 2020 course, coming real soon! Best of luck!
Who this course is for:
If you have no idea how to create awesome looking videos but want to learn how, then this is the course for you
If you have no idea about Adobe Premiere Pro or video editing but want to learn, then this is the course for you
If you would like to start a career in video editing, and you've settled on using Adobe Premiere Pro, then this course is for you
If you've been watching travel videos, photography videos, tech review videos, vlogs etc on YouTube and you wish you knew about to do it as well, then this course is for you
If you're a fan of filmmaking and would love to know how filmmakers cut all of their footage together, this course can give you a great introduction to that whole process
If you're a social media marketer and need to learn how to make more professional looking video content, this is a great foundation course for you
If you would like to start a YouTube channel or post videos to Instagram, Facebook etc then this course will give you the fundamentals for video creation
If you would like to learn how to add a stylized 'look' to your videos using color grading, this course is for you
If you are an online course creator and you need to edit a lot of talking head footage, then this course is for you
If you are fairly experienced or are self taught with Adobe Premiere Pro, this course can help to fill in some gaps in knowledge that might be key to remember
If you can use Adobe Premiere Pro quite well, but you still have some doubts about the finer details of the program, this course can help