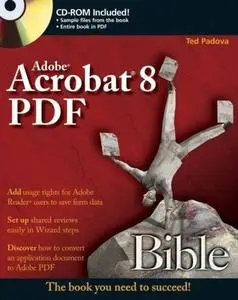 Adobe Acrobat 8 PDF Bible By Ted Padova
Wiley | 1085 Pages | 2007-02-12 | ISBN : 0470050519 | PDF | ~30MB
Over a thousand pages and the type is small – just like a real Bible. This book is everything you could possibly have wanted to know about Adobe Acrobat 8. And beyond Acrobat 8 itself, the book discusses and includes on a CD a number of third party add in packages that further extend what Acrobat will do.
Most people who have only Acrobat Reader to read .pdf files will be surprised to find that the program that produces the .pdf file is a huge and powerful software system. This book has everything you could possibly want to know about Acrobat. As with the Acrobat software itself, the book covers both the Windows and the MAC operating environments. In general these are the same, but in several cases where they are different screen shots off of both computers are included.
The book is designed as a reference book where you will jump to just the section containing the information about what you want to do rather than reading straight through like a mystery book. As such it has a pretty good table of contents and a 45 page index at the end of the book.
Download