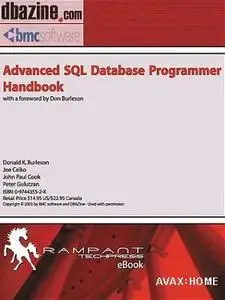 D.K.Burleson, et al, «Advanced SQL Database Programmer Handbook»
Rampant TechPress | ISBN 097443552X | 2003 Year | PDF | 1,35 Mb | 112 Pages
Written by the world's top SQL programmers, this eBook utilizes their substantial knowledge in SQL database programming. With combined experience of over a century, these experts share their secrets for programming with SQL. This is an advanced eBook that explores topics such as using advanced SQL constructs and writing programs that utilize complex SQL queries. Not for the beginner, this eBook explore complex time-based SQL queries, managing set operations in SQL, and relational algebra with SQL. This is an indispensable handbook for any developer who is challenged with writing complex SQL inside applications.
Password
:
www.AvaxHome.ru
Download from Rapidshare
Бонус | Bonus
My other uploaded eBooks (1400+) - links and descriptions
Другие книги, закаченные мной (более 1400) - ссылки и библиографические данные
version 5 (April 07 2006)
Download eBooks list from Mytempdir
Download eBooks list from Rapidshare
Please about the dead Rapidshare links send me the message
Пожалуйста отправляйте мне сообщение об убитых ссылках на Рапидшаре