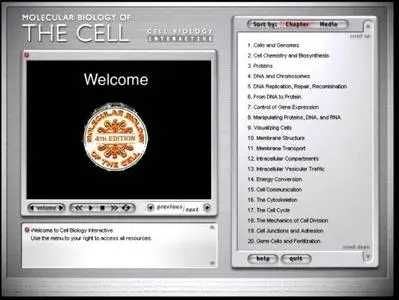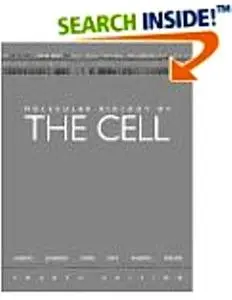 Bruce Alberts et al., Molecular Biology of the Cell - Fourth Edition + Cell Biology Interactive CD-ROM
Bruce Alberts, Alexander Johnson, Julian Lewis, Martin Raff, Keith Roberts, Peter Walter

Publisher: Garland Science | ISBN: 0815332181 | 2002 Year | Language: english | pdf | rar 42,1 MB | 1616 pages

CD-ROM Media | ISO | Total size: 402 MB | 3x 94,1 MB 1x 20,7 MB

Molecular Biology of the Cell is the classic in-depth text reference in cell biology. By extracting fundamental concepts and meaning from this enormous and ever-growing field, the authors tell the story of cell biology, and create a coherent framework through which non-expert readers may approach the subject. Written in clear and concise language, and illustrated with original drawings, the book is enjoyable to read, and provides a sense of the excitement of modern biology. Molecular Biology of the Cell not only sets forth the current understanding of cell biology (updated as of Fall 2001), but also explores the intriguing implications and possibilities of that which remains unknown.

One cannot watch cells crawling, dividing, segregating their chromosomes, or rearranging their membranes without a feeling of surprise and curiosity about the mechanisms that underlie these processes. Included with every copy of Molecular Biology of the Cell, Fourth Edition, the Cell Biology Interactive CD-ROM provides students and instructors with a powerful tool for understanding and appreciating the remarkable dynamics of the microscopic and molecular world.

Created by the Alberts author team, the CD-ROM contains over 75 video clips,over 60 animations and videos, molecular structures, 35 three-dimensional, interactive molecular tutorials, and 15 highresolution electron micrographs, which can be used in a number of different ways—in the classroom by the instructor, in homework assignments and projects, and in group and individual study, etc.

The authors chose to develop material that would not only reinforce basic concepts, but also extend the content and scope of the book. By drawing upon new biological imaging and computer technologies, these electronic resources help reveal the once unseen behavior and inner workings of living cells, bringing the book to life and opening a new realm of visual exploration.


MINIMUM SPECIFICATIONS
MS Windows
* Microsoft Windows 95, 98, Me, NT, 2000, XP
* A Pentium-based PC or compatible (PII minimum)
* 64MB of RAM
* A Sound Blaster or compatible sound card and speakers
* DirectX version 3.0 or later recommended
Macintosh
* System 8.6 or 9.x (Note: this is not fully OSX compatible. OSX users must run this program in "Classic" OS 9.x mode)
* A Power PC processor-based Macintosh computer
* 64MB of RAM
Please note that the performance may vary according to processor speeds and the amount of memory available on your computer. For optimum performance, the following specifications are recommended:
MS Windows
* 128MB of RAM
* At least a 500Mhz processor
Macintosh
* 128MB of RAM
* At least a 400Mhz processor
Note: you must install the Netscape viewer Chime in order to see some animations. It is included in the CD in this path:


x:\install files\pc\chime\Chime26SP3.exe
For further Help with the installation process go to
http://www.garlandscience.co.uk/Mboc4/supplements/