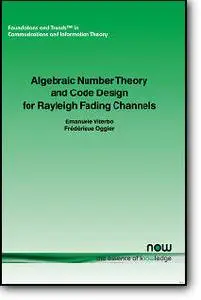 Frederique Oggier, Emanuele Viterbo, «Algebraic Number Theory And Code Design For Rayleigh Fading Channels»
Now Publishers Inc. | ISBN 1933019077 | 2005 Year | PDF | 1,18 Mb | 88 Pages
Elementary number theory was the basis of the development of error correcting codes in the early years of coding theory. Finite fields were the key tool in the design of powerful binary codes and gradually entered in the general mathematical background of communications engineers. Thanks to the technological developments and increased processing power available in digital receivers, attention moved to the design of signal space codes in the framework of coded modulation systems. Here, the theory of Euclidean lattices became of great interest for the design of dense signal constellations well suited for transmission over the Additive White Gaussian Noise (AWGN) channel.
More recently, the incredible boom of wireless communications forced coding theorists to deal with fading channels. New code design criteria had to be considered in order to improve the poor performance of wireless transmission systems. The need for bandwid the ?cient coded modulation became even more important due to scarce availability of radio bands. Algebraic number theory was shown to be a very useful mathematical tool that enables the design of good coding schemes for fading channels.
Password
:
www.AvaxHome.ru
Download from Rapidshare
Бонус | Bonus
My other uploaded eBooks (1900+) - links and descriptions
Другие книги, закаченные мной (более 1900) - ссылки и библиографические данные
New!
version 6 (May 03 2006) [1,12 Mb] | Format: txt
Download eBooks list from Mytempdir
Download eBooks list from Rapidshare
If the book from the list is necessary for you, and the link to her does not work, send me the message. Also please about the dead links in my posts send me the message.
Если Вам необходима книга из списка, а ссылка на нее не работает, то отправьте мне сообщение. Также пожалуйста отправляйте мне сообщения о нерабочих ссылках в моих постах.