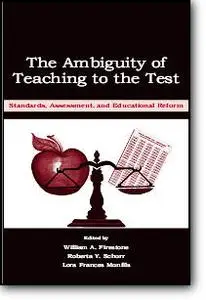 William A. Firestone (Editor), et al, «The Ambiguity of Teaching to the Test: Standards, Assessment, and Educational Reform»
Lawrence Erlbaum Associates | ISBN 0805845690 | 2004 Year | PDF | 1,85 Mb | 247 Pages
In discussing government-driven, standards-based educational reform, the editors (whose credentials are not given) examine the results of a study of New Jersey's testing policy in elementary math and science. Based on interviews, classroom observation, and case studies, they give such efforts a mixed report card. While testing sometimes encouraged new teaching strategies, teachers did not always get timely, usable feedback for instructional improvement. Methodological notes are appended.