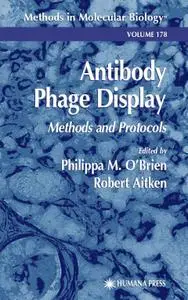 Antibody Phage Display
edited by Philippa M. O'Brien, Robert Aitken
Humana Press | ISBN 0896039064 | 2001 | PDF | 391 pages | 2.6 MB
This comprehensive collection of established antibody phage display protocols features authoritative guidance that will enable the nonspecialist successfully to carry them out. Coverage spans the construction of antibody libraries, the selection of antibody clones with the desired properties, and their modification, expression, and purification. Comprehensive and highly practical, Antibody Phage Display: Methods and Protocols provides biochemists, molecular biologists, and immunologists with a gold-standard reference guide to the successful isolation, modification, and expression of recombinant antibodies using today's powerful phage display technology.