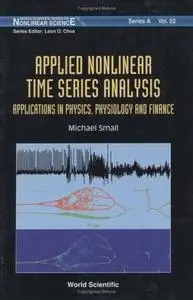 Michael Small, «Applied Nonlinear Time Series Analysis Applications in Physics, Physiology and Finance»
World Scientific Publishing Company | ISBN 981256117X | April 2005 | PDF | 145 Pages | 13,45 Mb
Nonlinear time series methods have developed rapidly over a quarter of a century and have reached an advanced state of maturity during the last decade. Implementations of these methods for experimental data are now widely accepted and fairly routine, however genuinely useful applications remain rare. The aim of this book is to focus on the practice of applying these methods to solve real problems. It is my hope that the methods presented here are sufficiently accessible, and the examples sufficiently detailed, that practitioners in other areas may use this work to begin considering further applications of nonlinear time series analysis in their own disciplines.
This volume is therefore intended to be accessible to a fairly broad audience:
both specialists in nonlinear time series analysis (for whom many of these techniques may be new); and, scientists in other fields (who may be looking to apply these methods within their speciality). For the experimental scientist looking to use these methods, MATLAB implementation of the underlying algorithms accompany this book.
Although the mathematical motivation for nonlinear time series analysis is fairly advanced, I have chosen to keep technical content in this book to a minimum. Postgraduate and advanced undergraduate students in the physical sciences should find the material reasonably easy to understand.
This book may be read sequentially; skimmed in a pseudo-random order; used primarily as a reference; or, treated as a manual for the companion computer programs.
Download Part One
Download Part Two
Password:
spiderman