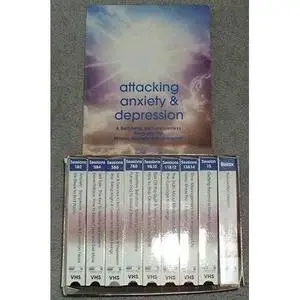 Lucinda Bassett
«Attacking Anxiety program 16 part Audio Tapes»
Midwest Center for Stress and Anxiety | 1999 | mp3 | 20 Kbps, 12 KHz | (28.8 + 26.3 + 24.8 + 23.4) MB
This 15-week course includes 16 cassettes, written material and a vinyl binder. The program will provide answers to such commonly asked questions as; "What causes anxiety and why do I have a problem with it?" "How can I get my family to understand my problem and work with me?" And many more.
Attacking Anxiety will teach you how to control the symptoms, how to prevent severe anxiety, how to stop negative worrisome thoughts, and how to control your emotions. It will provide the resources for you to become confident, assertive and independent.
Listed below are the Program Contents, tapes and covered subjects.
Session 1 : Anxiety & Depression: Symptoms, Causes and Common Fears
Provides a complete understanding of anxiety and depression, background traits, personality traits, and physical symptoms.
Session 2 : Six Steps That Will Put an End to Panic Attacks
The lesson for learning the coping skills and techniques for overcoming panic and debilitating physical symptoms.
Session 3 : Self Talk: The Key to Healthy Self Esteem
Learning the role your self talk plays in your anxiety and depression.
Session 4 : Expectations: How to Expect Less and Get More
Learn to have realistic expectations of yourself and others.
Session 5 : Eat and Exercise to Rid Yourself of Anxiety and Depression
Learn how to calm yourself and feel more energetic through diet and exercise.
Session 6 : Stop Being Angry and Control Your Mood Swings
Learn to think before you react to get exactly what you want out of any situation.
Session 7 : Assertive Behavior: Speak Confidently, Gain Respect
Respect yourself enough to stand up for yourself.
Session 8 : Put an End to "What If" Thinking
Don't be consumed with things that may happen, stop anticipating.
Session 9 : Get off the Guilt and Worry Treadmill
Put guilt and worry in its place… nowhere.
Session 10 : How to Stop Obsessive, Scary Thoughts
Stop focusing your attention on thoughts that only scare you.
Session 11 : High Anxiety: The Truth About Medication and Alcohol
Pros and cons of medication.
Session 12 : The Courage to Change
Learn the powerful, positive effects change can have in your life.
Session 13 : Time Management: 12 Steps Toward a Balanced Life
Bring order back into your life, stop running and feeling overwhelmed.
Session 14 : How to Keep Stress From Becoming Anxiety
Stress can create, stress can kill. Learn to make stress a positive force in your life.
Session 15 : Getting Beyond a Growth Spurt
Don't let a set back discourage you, face the challenge and come out stronger for it.
Session 16 : Relaxation Session
Learn to calm yourself and become comfortable relaxing. For optimum results, the relaxation session should be used initially a minimum of twice a day.