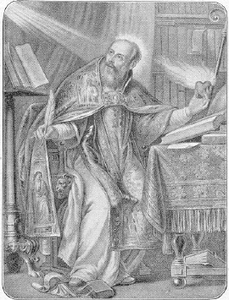 Phillip Cary
Eastern University
Ph.D., Yale University
Phillip Cary is the Director of the Philosophy Program at Eastern University in St. Davids, Pennsylvania. He is also a scholar-in-Residence at the Templeton Honors College.
He received his undergraduate training from Washington University (St. Louis) with a double degree in English literature and philosophy. He earned his M.A. in philosophy and a Ph.D. in philosophy and religious studies from Yale University…
Long before he was declared a saint by the Church, Augustine gained profound influence as both a Church Father and a Christian Platonist philosopher—defending the doctrine of the Trinity, defining the epochal idea of religious grace, delving into the inner relationship between God and soul, and much more.
Today, according to Professor Phillip Cary, Augustine is recognizable even to non-Christians as the most important Christian writer outside of the Bible.
Yet Augustine was also a man—a rhetorician trained in the Roman way whose life and discovery of his calling make for one of the most fascinating stories in the history of religious philosophy.
Explore Augustine's Life, Teachings, and Doctrine
This course paints a rich and detailed portrait of the life, works, and ideas of this remarkable figure, whose own search for God has profoundly shaped all of Western Christianity.
You learn what Augustine taught and why he taught it—and how those teachings and doctrines helped shape the Roman Catholic Church.
These lectures are rewarding even if you have no background at all in classical philosophy or Christian theology. This is because Professor Cary, who has taught Villanova's nationally recognized seminars on ancient, medieval, Renaissance, and modern thought, has organized an entirely self-contained course.
Professor Cary (Ph.D. in Philosophy and Religious Studies, Yale University) is a scholar-in-residence at the Templeton Honors College at Eastern University, where he is director of the Philosophy program and teaches a year-long Great Books seminar. He is author of Augustine's Invention of the Modern Self (Oxford University Press).
Professor Cary explains any special religious or philosophical concepts you need to know in order to appreciate Augustine's impact, with real-life examples and analogies that make even the most subtle concepts clear and easy to understand.
You'll gain a sense of what Augustine was saying, how his own experiences led him to say it, and how his thoughts fit into the theological, philosophical, and political worlds that swirled around him.
Who Was Augustine? A Brief Biography
Augustine was born in 354. Early in his life he was inspired by the works of Cicero to devote his life to the pursuit of truth. He started this pursuit as a Rhetorician, then he became a Manichaean, and later a Skeptic.
Ambrose, bishop of Milan, and Augustine's mother, Monica, were among those instrumental in his conversion to Catholic Christianity in 386. In North Africa he founded a small monastic community and in 391 was elected Bishop of Hippo at a time when people still had some say in who would lead their religious community.
From 395 to 430, he served as bishop. He wrote many treatises among which we find the celebrated Confessions, published in 400 as an open letter to his congregation and a prayer to God. His works also include The City of God and On the Trinity.
Many of his writings were directed against heresies, particularly Manichaeism, Donatism, and Pelagianism.
He is noted for founding the Western theological tradition and establishing doctrines of the Trinity and Christology.
The Life, Works, and Significance of Augustine
The course begins with two extremely helpful lectures that help place Augustine in context as both a Church Father (interpreter of the Bible and teacher of Christian doctrine) and philosopher (one who has given us new conceptions of the human heart and its depths).
In Lecture 1 you meet Augustine the Roman Christian, one of the Church Fathers responsible for the transition from Bible stories to actual Christian doctrine, a man writing with the end of the Roman Empire at hand.
In Lecture 2 you also meet Augustine the Christian Platonist and learn the Platonic concepts—including the idea of a non-bodily, eternal mode of being and the way that concept applies to God—which so deeply influenced him and other religious thinkers of the time.
With Augustine's role in—and debt to—these two worlds established, Professor Cary then looks at Augustine's life and legacy in three parts.
Part 1: Augustine's Life
Lectures 3 through 6 are devoted to a study of Augustine's life. You look at the Confessions, his great spiritual autobiography, written when he was a 45-year-old bishop reflecting on the spiritual path of a questing young man of whom the grown Augustine might not always approve.
You examine the Confessions from three angles:
The intellectual angle spotlights his passionate search for truth.
The emotional angle focuses on the love that drives this search, and the aching sense of loss, grief, and yearning which the Confessions evokes in order to show how love can go wrong.
The religious angle explores Augustine's search for truth that leads him to Christ and the Christian life, conceived as a journey toward heaven.
The section on Augustine's life ends with a focus on his career as a Christian writer following the period of his life covered by the Confessions, which culminated in his almost 15-year effort to write the 22 books of The City of God.
Part II: Augustine's Thought
The next series of three lectures explains key concepts of Augustine's thought, all related to his epochal doctrine of grace.
You examine how Augustine relates the human qualities of faith and love to the divine gift of grace (Lecture 7); how his doctrine of grace addresses troublesome issues like the origin of evil, original sin, and predestination (Lecture 8); and how he relates the inward gift of grace to the external side of human life in his teachings about signs, words, sacraments, and the Church (Lecture 9).
Part III: Augustine's Concept of Persons
The final three lectures address Augustine's concept of persons, both human and divine.
You look at Augustine's distinctive conception of the human soul as a private inner world (Lecture 10); then his distinctive way of relating his concept of the soul to the doctrine of the Trinity, which is the orthodox Christian conception of God (Lecture 11); and finally his understanding of God's relationship to specific human communities in history, specifically focusing on The City of God (Lecture 12).
80MB
MPEG 2.0 layer 3
32kbit, 65015 frames
22050Hz Mono
http://rapidshare.de/files/20136473/Augustine__Philosopher_and_Saint_Phillip_Cary.part1.rar.html
http://rapidshare.de/files/20138327/Augustine__Philosopher_and_Saint_Phillip_Cary.part2.rar.html
My other posts
http://www.avaxhome.ws/ebooks/alexander_the_great_and_the_hellenistic_age_jeremy_mcinerney.html
http://www.avaxhome.ws/ebooks/english/amin_maalouf_the_crusades_through_arab_eyes.html
http://www.avaxhome.ws/ebooks/english/god_and_mankind_comparitive_religions_robert_oden.html
Going next:
After the New Testament - The Writings of the Apostolic Fathers
Brad Gregory History of Christianity in the Reformation Era
Classical Mythology
Discovery of Ancient Civilizations - Brian Fagan
From Plato to Post-Modernism - Louis Markos
Govind Sreenivasan - Europe And The Wars Of Religion
Great Ancient Civilizations Of Asia Minor - Kenneth Harl
Great Figures of the Old Testament Amy-Jill Levine
Great World Religions - Christianity Robert Oden
Great World Religions - Islam
History of Ancient Egypt - Bob Brier
History Of Science - Antiquity To 1700 - Lawrence Principe
Kenneth W. Harl - The World of Byzantium
King Arthur And Chivalry Bonnie Wheeler
Louis Markos The Life and Writings of CS Lewis
Luke Timothy Johnson - Jesus and the Gospels
Michael Sugrue - Plato, Socrates, and the Dialogues
Philosophy and Religion in the West - Phillip Cary
The Apostle Paul Luke Timothy Johnson
The Bible and Western Culture
The Era Of The Crusades
The Foundations of Western Civilization - Thomas F. X. Noble
The Other 1492 - Ferdinand, Isabella, and The Making of an Empire - Teofilo F. Ruiz
The Terror of History - Mystics, Heretics, and Witches in the Western Tradition
Phillip Cary - Luther - Gospel Law And Reformation
Bonnie Wheeler - Medieval Heroines
Ancient Near Eastern Mythology - Shalom Goldman
Rome and The Barbarians - Kenneth W. Harl
Practical Philosophy - Greco-Roman Moralists
History Of Ancient Rome Garrett G Fagan
Great.World.Religions-Judaism.-.Isaiah.M.Gafni
James Hall - Philosophy Of Religion
Bob Brier - Great Pharaohs Of Ancient Egypt
Plato's Republic - David Roochnik
Americas Religious History - Patrick N Allitt
Patrick Allitt - Victorian Britain
David Roochnik - Introduction To Greek Philosophy
The High Middle Ages - Professor Philip Daileadeк
Kenneth Bartlett - Italian Renaissance
Jeremy Adams - Thomas Aquinas, The Angelic Doctor
History of England from the Tudors to the Stuarts - Robert Bucholz
William Cook - Francis of Assisi
Philip Daileader - The Early Middle Ages
Gary W Gallagher - American Civil War
History of the United States Part 1,2,3 Allen C. Guelzo
Teofilo Ruiz - Medieval Europe
History of Russia - From Peter the Great to Gorbachev - Mark Steinberg
The Odyssey Of Homer - Professor Elizabeth Vandiver
The Iliad Of Homer - Professor Elizabeth Vandiver
Herodotus, The Father Of History - Elizabeth Vandiver