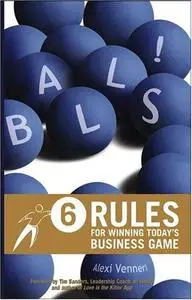 Brave, Authentic, Loud, Lovable, and Spunky! The keys to sustained business growth and success.
America's small and midsized businesses face unique challenges as they struggle to reach the kind of long-term business goals achieved by larger companies. Balls! shows that successful firms follow certain rules and display six essential traits-they are brave, authentic, loud, lovable, and spunky. Add an exclamation mark for "Do It Right Now Before Someone Else Does!" and that spells Balls!-something all growing businesses need in order to truly succeed. Written by a young executive at one of America's fastest growing small businesses, Balls! looks at business success from a decidedly exuberant and creative perspective, bringing fresh ideas and tactics that any business leader, in any industry, will find immediately useful.
Alexi Venneri (Seattle, WA) is Chief Marketing and Communications Officer at Who's Calling, one of the fastest growing companies in America. She joined the firm as employee number 13 and has witnessed it grow to over 300 employees. She is also the former director for the Seattle Mariners who managed all ballpark marketing and fan relations for the team. Her professional career also includes sales management, event planning, training, and marketing for companies in both the U.S. and Canada.
From the Inside Flap
Winning takes BALLS!
Do you have what it takes?
In today's ultra-competitive economy, every business— large or small—and every manager—old or new—needs BALLS! to succeed. Having BALLS! means following six simple yet crucial rules for winning today's business game. You must be:
Brave enough to take risks
Authentic enough to follow tried and true business practices
Loud enough to attract serious attention
Loving enough to care for your employees and customers
Spunky enough to do things differently
!nspired and excited enough to GO! and make something happen
BALLS! is full of fantastic ideas and hard-won wisdom from leaders at top-performing businesses who have invented or discovered unconventional ways to achieve success that you can use to improve the performance of your business and boost your own career.
You'll find out how:
Lonnie Benson parlayed a $350 loan into a $60 million-a-year business called Who's Calling
Rob Harris ditched his job as a psychotherapist to launch Pacific Market International, a global trading and marketing company
Kenny Dichter and Jesse Itzler of Marquis Jet Partners made the skies friendlier by inventing a business model for renting corporate jets
Kit Jeerapaet of duPont Registry created a new way to shop for high-end luxury cars online—and saved the jobs of his coworkers in the process
BALLS! is packed with many real-world lessons gathered from interviews with top executives at several of the nation's fastest-growing businesses. They share their stories of success—and failure—in today's intensely competitive economy.
BALLS! also features a special "Snag the Ideas" section at the end of each chapter, offering specific tips for improving business processes, increasing revenue, and enhancing profits. "Sometimes it only takes one good idea to make a huge difference," says Alexi. "Snag an idea from the book and make it your own by doing something really ballsy with it!"
Based on proven principles and practical, effective business strategies, BALLS! offers uncommon advice and innovative ideas for competing successfully. It is designed to serve as your handy guide and personal coach for winning the business game.
About the Author
Alexi Venneri is the Chief Marketing and Communications Officer at Who's Calling, Inc., one of the most successful, fastest-growing businesses in the country. Before joining Who's Calling as its thirteenth employee, Alexi managed ballpark marketing and fan relations for the Seattle Mariners. Her professional career includes sales management, event planning, training, and marketing for companies in both the United States and Canada. An accomplished presenter and public speaker, Alexi shares her extensive knowledge and inspirational advice with managers and executives at every level from a broad range of industries.
Download